Musique@ PSL is an association comprising the PSL Orchestra and the Choir. While its office and all its members are volunteers, it nevertheless employs professionals in the artistic and administrative fields. Musique@ PSL also organizes and participates in many projects throughout the year: Spring music festival in places of PSL University, themed concerts, tours in France or abroad...
All these projects require substantial funding and resources. Musique@ PSL is supported in particular by Université PSL and Dauphine PSL with which it maintains privileged and close ties. It also benefits from significant support from the foundation De la musique avant tout chose, as well as from individuals. These funds alone are not sufficient enough: your help is needed. Support can be financial or material (loan of an instrument for example). Musique@ PSL is authorized to issue a tax receipt for each donation received.

Under the terms of a biannual agreement,PSL University :
pays Musique@PSL an annual operating grant
promotes the actions of Musique@PSL with the university community in order to reinforce the unifying nature of the project; as such, the component institutions of Université PSL are invited, according to their possibilities, to make rooms available to Musique@PSL for concerts and festivals;
enhances the participation of students in the activities of the Orchestra and the Choir thanks to the creation of an optional "Music PSL" unit which can be set up by member establishments and the allocation of specific ECTS to regular students at the work of the Orchestra and the Choir;
gives Musique@PSL all facilities for its external communication (posters, publications, website), including within establishments subject to their agreement and includes the Orchester Symphonique et Chœur de Paris Sciences & Lettres in its communication;

Dauphine-PSL makes available to Musique@ PSL:
An amphitheater for rehearsals;
An office for the administration of the association;
A storage room for sheet music, instruments and equipment.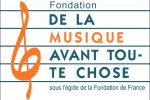 Musique@ PSL is also supported by the foundation De la Musique avant toute chose, founded in December 2018 under the aegis of the Fondation de France.
The foundation supports projects for the composition, conservation, production, teaching and distribution of Western music on all media (classical music, jazz, contemporary tonal music).
It provides occasional support for specific projects (concerts, festivals, recordings, concert tours, compositions) and accompanies structures that meet the general objectives of the foundation and that transmit the passion for music.
The foundation particularly helps initiatives or structures involving young performers, professionals or amateurs, in order to boost their projects. It is attentive to promoting access to music for audiences who are prevented from doing so or are far from it.
Donations to Musique@ PSL entitle you to an income tax reduction of 66% of the amount paid, up to a limit of 20% of taxable income.
For any additional information, you can contact us here