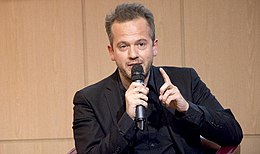 Johan Farjot was born in Saint-Étienne, where he learned music at the local regional conservatory. He further pursued his musical education at the National Conservatory of Music and Dance in Paris where he taught by Michaël Levinas, Thierry Escaich, Zsolt Nagy, and many other renowned musicians. As of current, he is a five time prize recipient (harmony, counterpoint, fugue, analysis, conducting).
Holder of the music aggregation, Johan Farjot also studied chamber music at the National Conservatory of Music and Dance in Lyon.
Musical Activities
Composer, arranger
A multi-faceted composer, Johan Farjot strives to refrain from restricting himself into stylistic labels. His work is defended by many performers as evidenced by his discography (Diapason d'Or, Diapason de l'Année, Choix de France Musique, etc.), released in August 2019 by Outhere - Fuga Libera, Contemporary Clarinet Concertos.
This disc features the concertos of Lindberg and Hartmann, his triple concerto Fantasme – Cercles de Mana for viola (Arnaud Thorette), cello (Antoine Pierlot), clarinet (Jean-Luc Votano) and orchestra (Orchestre Philharmonique Royal de Liège conducted by Christian Arming).
A monograph was also released digitally in May 2020 (physical release in September 2020) by Klarthe. Under the title Childhood, this project presents chamber pieces by Johan Farjot performed by about thirty artists (such as the Ensemble Contraste, Geneviève Laurenceau, Jérôme Ducros, Pierre Génisson, etc.)
The composer Johan Farjot also approaches other styles, as evidenced by his pop book-disc published with the Ensemble Contraste, in 2017 at Gallimard. This particular diss is entitled Georgia, Tous mes Rêves chantent (auteur : Thimotée de Fombelle, illustrateur : Benjamin Chaud) en partenariat avec l'association SOS Villages d'enfants. Many noteworthy artists participated and sang his music (such as Alain Chamfort, Emily Loizeau, Albin de la Simone, Marie Oppert, etc.).
In the same vein, he has a book-disc for children entitled Siam – Au fil de l'eau(author: Arnaud Thorette, illustrator: Olivier Latyk) one that also involves a large number or artists (Gérard Jugnot, François-Xavier Demaison, Juliette, Tim Dup, etc.) and is in partnership with the Association Le Rire médecin.
Furthermore, he hopes to reimagine the works of Schubert in a disc by the Ensemble Contraste alongside the folk-influenced singer, Rosemary Standley, on Alpha (Schubert in Love), for the start of the summer 2020.
As a musical arranger, Johan Farjot likes to shed new light on the music he is working on. From musical theatre (Song, Naïve, 2011, alongside opera singers such as Karine Deshayes, Sandrine Piau, Magali Léger, Alain Buet, Sébastien Droy or Sébastien Guèze) to J.S. Bach ("Transcripts", Dolce Volta, 2013), as well as through the tango (« Café 1930 », Zig-Zag Territoires, 2009 and « Besame Mucho », Aparté, 2017, with l'Orchestre Philharmonique Royal de Liège) he proposes a variety of acclaimed works in his repertoire.
We must also mention his research on the borders of jazz with his compositions aimed at a very particular ensemble (two keyboards with Karol Beffa, Arnaud Thorette on the alto and Raphaël Imbert on the saxophone) for a disc entitled Miroir(s) published in 2013 by Naïve in which he interprets great classic themes of the collective imagination.

Pianist, conductor
A pianist within the Contraste ensemble (which he created and co-directs with the violinist and violist, Arnaud Thorette), Farjot has an intense discography and performs with prestigious partners in numerous festivals and concert seasons in France and abroad.
Among the thirty recordings he has recorded, there are several worth mentioning: in 2009, with Cyprès, a disc devoted to the music of Bruch (Diapason d'Or); in 2010, at Zig-Zag Territoires, the three sonatas by Brahms for violin and piano with Geneviève Laurenceau, as well as a Fauré disc with the first Quartet with piano and La Bonne Chanson with the Ensemble Contraste and Karine Deshayes (Diamond from Opéra Magazine); and again in 2010 alongside the Initium ensemble, a monograph dedicated to Onslow with Timpani (Choc Classica); and finally in 2012, with the same performers, a disc dedicated to Charles Koechlin.
He has also recorded a Bach disc with Dolce Volta (Harmonia Mundi) with the Ensemble Contraste as well as a Schumann disc with Cyprès with Jean-Luc Votano and Arnaud Thorette.
In 2015, two records were released by Aparté: Après un rêve, disc of French melodies performed by mezzo-soprano Karine Deshayes and Into the dark, pieces for string orchestra by Karol Beffa with Karine Deshayes, Arnaud Thorette, Emmanuel Ceysson and the expanded Ensemble Contraste, conducted by Johan Farjot (Clic de Classique News, Grand Prix des Lycéens).
As a dedicated performer, Johan Farjot continues to strive for creation (and have recreated works by Karol Beffa, Philippe Hersant, etc.).
In addition, Johan Farjot is well known in the world of jazz and participates as a pianist along great performers such as Anne Paceo, Hugh Coltman, Daniel Humair or André Ceccarelli. He is the co-artistic director, alongside saxophonist Raphaël Imbert, of the series "Les 1001 Nuits du Jazz" since March 2016, at Bal Blomet, a historic Jazz club in 15th district (2 concerts per month with many guests). A discographic testimony live was published in the spring of 2020 by MDC/Pias (Les Mille et un Nuits du Jazz. Johan Farjot, Raphaël Imbert and Guests.
Johan Farjot directs the choro-symphonic phalanxes and the musical coordination of the University of Paris Sciences and Lettres, where he is the guest of several formations in France and abroad: Orchestre National du Capitole de Toulouse, Orchestre de la Radio of Bratislava, Durban Philharmonic Orchestra, Marseille Opera Orchestra, National Orchestra of Auvergne, Jan Talich Orchestra of Prague, Berliner Symphoniker, etc.